Dispensing Equipment
Thermal greases can be applied manually or automated effectively without mess using several methods. We highly recommend purchasing right dispensing equipment and package size/type from Timtronics to achieve precise and repeatable applications without mess.
Timtronics offers following dispensing equipment
Purchase syringe type package and manual Gun (size 30cc & 10cc) to disperse directly on components. Review product information sheet for full details.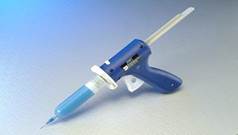 2. Pneumatic Dispensing, controlled by time and pressure:
An automatic digital dispenser with a bright LCD display and "teach & learn" process programming. Up to 9 independent dispensing programs may be stored for fast recall.
1.TIM- SL101N has three modes of operation. The first is autocycling, which operates by sequencing a self-taught cycle of events including a dispense time together with a wait or pause condition between the cycles. This feature enables the SL101N to be used as a stand-alone semi-automated dispensing system. Manual-mode enables a dispense operation to be manually controlled by a foot pedal, and Timed-mode dispenses at a pre-set time.Review product information sheet for full details.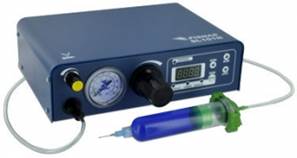 1/10 Gallon, 6 oz, 8 oz and 12 oz. Metal Cartridge Retainers and cap
Thermal greases can be dispensed directly using a cartridge retainer and cap as shown. These are used for dispensing higher volumes of grease and cartridges are supplied in fluid ounces. They are often used for high viscosity thermal greases and will require higher fluid pressure. For this reason metal cartridge retainers are well suited.
2.These retainer are recommended to use with digital dispenser (Part# TIM-SL101N) to achieve precise and consistence shot. Review product information sheet for full details.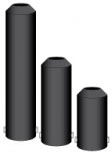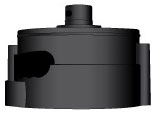 Works with standard caulking cartridge with or without nozzle tip, also it can be used with roller attachment to dispense and spread directly on the parts.
This system can be used for dispensing thermal grease from 1 quart or 1 gallon round cans. Review product information sheet for full details.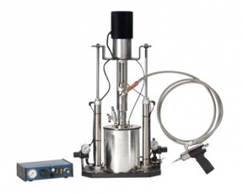 5 gallon or 55 gallon system
This system can be used for dispensing thermal grease from 5 gallon or 55 gallon drum size with automated robotic system in volume production
Note: Please call sales engineer for pump system supplier info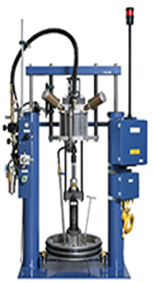 Epoxies Dispensing:
Note: Please call sales engineer for supplier info